Painting is synonymous with beauty and giving your room a beautiful look is necessary to make people feel relaxed at home especially when seeing beautifully painted walls. Painting is also an art which has evolved over the years and animal-inspired paintings are innovations which have been recognized and loved by many. This is an expression of nature in rooms and one of such beautiful painting innovation is the Unicorn. Let me share with you 5 Unicorn-inspired room paintings you'll love and also things to avoid concerning room painting.
Why Do I Need To Paint My Room?
Many people might find this question amusing but there are still many homes not painted. In case you are wondering, the reasons for painting your room include:
Painting your rooms actually add more value to your home. A house that is well painted has a higher monetary value than the one that is not painted. Are you a house owner? It will be beneficial for you to paint your home in case you want to rent, lease or sell the property.
The reduction of odours and fumes in homes can be attributed to paintings on the wall. Painting enhances healthy air quality.
Painting your home would make you and your family, as well as visitors or guests, feel relaxed. You and your family spend most of the time in your home than anywhere else. A colourful environment relaxes the mind.
Sometimes, changing the painting of your home can change your mood and that of your family members. For instance, a room that is colourfully painted with bright colours can enhance playroom fun for kids.
Painting of your room can also reduce dust and keep dirt to a minimum. Dust emanates from plastered walls, therefore, paint reduces the dust to its bearest minimum.
What Are Things To Avoid Concerning Room Painting?
There are certain 'don'ts' to be considered when painting your rooms. Here are some of them:
Do not start painting when your furniture is all over the place and uncovered.
Avoid touching the painted wall until the paint is dried up
Take note of the colour of the paint. Do not use colours that would not match your main furniture.
Do not get a person who is a novice to do your painting
Avoid buying fake brands of paints.
Avoid total dark colour. Where you have a dark colour ensure that there is bright lighting.
Do not use a colour that stains can easily be noticed on it.
Avoid oil paint in bedrooms because it makes the room always hot especially in the hot season.
What Are The Factors To Be Considered Before Painting Your Room?
There are several important things to consider when painting your rooms and these include the following:
You have to consider your taste or preference. If you have a high preference for quality, then go for good quality brands of paints.
The room design is another factor. There are several styles of room design and a good knowledge of your room design will bring out the beauty of paintings.
The terrain where the building is located. Is it swampy? If it is swampy there is a tendency the walls will be damped and it can affect the painting.
You have to consider your emotional attachment to the room. The bedroom for an example is a place where we rest after a stressful day. A good painting will definitely relax your nerves.
The way you arrange your furniture.
Why Do I Need A Unicorn-Inspired Room Painting?
The Unicorn is an animal of great antiquity. It reminds us of nature and magical powers. It is believed by many that it lived thousands of years ago and has mystical powers too. The Unicorn has several unique symbolisms. For example, it strongly represents chastity – innocence and strength. Having a Unicorn-Inspired room painting can mean the following:
Having Unicorn-inspired painting means that your room is filled with the divine power that nurtures all living things.
Unicorn-inspired painting for your rooms signifies the pure in heart. It is believed that only a virgin can catch a Unicorn.
A Unicorn-inspired painting signifies an emblem of the world of divine presence.
Unicorns are said to be associated with the moon and this connection is been interpreted as feminine energy. A Unicorn-Inspired painted room could translate some form of energy pattern to its inhabitant.
For those people who are highly spiritual, a Unicorn-inspired painting could translate as a symbol of magic, miracles and enchantment. It is widely believed that the Unicorn is a symbol of magic and wonders.
A Unicorn-inspired painting for your room could enhance your imagination because the Unicorn is strongly associated with a vibrant imagination.
Unicorn-inspired painting in your rooms brings nature right into your home. It makes you appreciate the wonders of nature.
Unicorns are widely regarded as having cultural symbolism.
5 Unicorn-Inspired Room Painting You'll Love
There is a wide knowledge of the Unicorn-Inspired theme at the moment. Unicorns are associated with bright colours and a beautiful element. In addition, the theme of the Unicorn could depict a perfect blend of nostalgia, sparkles and fun that could fascinate both young and old. A unicorn-inspired theme could refer to something special, different or unique from others or that is commonly seen. If you are considering a relaxing, colourful and fun room painting, here are 4 unicorn-inspired room paintings which you will love:
The stars floral wall painting is a kind of painting that depicts the mystical creature of the Unicorn. Stars are often interpreted as protective symbols. It stands for distant divine force or energy. It depicts something good and positive.
In the world of painting, stars are popularly regarded as a symbol of beauty, goodness and positivity. For instance, the stars are very distant from the earth, but they still sparkle here on earth at night. We see them shinning and we appreciate the wonders of nature. It also reminds us that there are supernatural or celestial forces that govern our world. And of course, the Unicorn also depicts supernatural forces.
This is what this painting looks like:
Having a wall painting of the stars and the unicorn can pass a great message about you to others who step into your home. It can also depict positivity, beauty and good energy.
The rainbow painting depicts the Unicorn attributes of miracles and hope. The Unicorn has been known for producing rainbow when it flies. Rainbow has several interpretations. A rainbow can be seen as a sign of blessing for your endeavours and those close to you. It is usually a powerful sign and can be interpreted as a message from the Universe. Biblically, the rainbow stands for end to despair or end to difficulty.
In addition, the rainbow is an outstanding beautiful spectacle. The different colour patterns stand for awesome beauty and the unicorn stands for beauty, strength and magical wonders. This is just how a simple, yet cool wall painting of a rainbow unicorn should look like:
A rainbow unicorn-painted wall can symbolize a colourful life, speak good luck and also make a room feel warm and inviting to anyone always.
Galaxy is an extremely large group of stars and planets that extends over many billions of light-years. This Unicorn-inspired galaxy painting signifies creativity and talents, increasing energy and abilities to express thoughts and feelings.
The Unicorn is a unique creature that has the ability to perform wonders. For instance, it is believed that its horn can perform miracles and its tears can bring about healing. Here is what this wall painting looks like: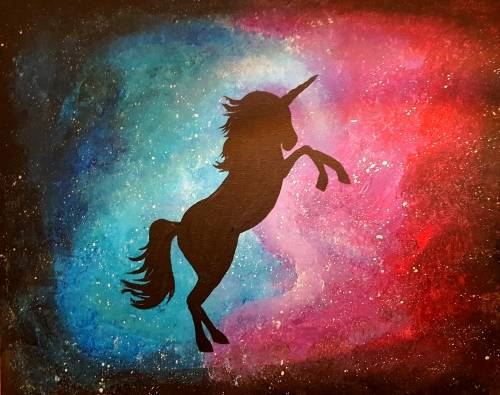 This galaxy unicorn can portray mystery, a quiet life and also positive vibes. It also shows strength as the unicorn is shown in its full glory and of course, that can encourage bravery and confidence.
The Unicorn is believed to have lived in the deep forest in the company of other unicorns. Fantasy refers to the activity of imagining possible or impossible things. The Unicorn was a creature known for performing incredible things through its horn.
Many people are fascinated by their supernatural abilities. The unicorn creates a world of fantasy for both young and old and of course, people love to cast their eyes on any image of one whether moving or still. Your wall can be designed just like this painting of the unicorn below:
This unicorn-inspired painting can speak purity, calmness and colour into the life of those surrounded by it.
This shinning unicorn wall painting is amazing for any room. It has fun colours to make your room and other places become vilifying. It gives an immersed sense and you can never feel any dull moment with this around you. From the pretty, shiny stars to the beautiful mane in rainbow to the colourful body of the unicorn. The whole representation in this drawing can transform any dull mood into something bright and colourful. Here is what this looks like:
Trust this wall painting to give your room the sparkle,  fun, colour and life it deserves. It will definitely liven anyone's mood and put even the slightest smiles on the face of those who cast their eyes on it.
Painting Your Walls
Wondering how you can achieve these drawings on your wall? No problem! Let me put you through that.
Getting started:
Once you are sure you want to do this, start by choosing the part of the wall you would like to paint your unicorn on. This is important because it will help you determine the size of the painting you would get. For instance, you can't get a large, full-portrait unicorn wall painting when you only have a small space left on your wall after hanging your frames or things you choose.
Next, you could purchase or print any of the recommended unicorn wall paintings above. Simply click on the image or name and you will be taken to where you can do that. You can get them as stencils if you can, but I will share with you how you can turn the drawings/paintings you get into stencils. If you prefer an already-made unicorn stencil, here is a reusable unicorn stencil template. It comes in different sizes and comes out beautifully on any wall. With stars to light up your room, you are sure to enjoy a good mood seeing this on your wall.

What you need to paint your walls:
Choose your colours wisely because they will always make a difference. But still, feel free to play around with the colours to arrive at the best look on your wall for your room.
Turing the drawings to stencils:
So, if you were not able to get the paintings as stencils, no worries! I have a super helpful and short video to show you how you can achieve that yourself in simple steps. It's a tutorial from GuideCentral which I know you will find very useful.
I bet with the above you can get this going yourself. However, if you feel overwhelmed at any point, take deep breathes and go back to it later. It's best to even stick to a small drawing if you know you may give up on a big drawing at some point. But if you can, get a professional or an extra, good hand to help you out.
Painting your walls step by step:
Now that our stencil is ready, let's get painting. Here are the steps to follow to arrive at an amazing wall art:
Coat the wall with a solid or light paint colour if you want your unicorn to have a background.
Get your stencil and position it properly on the wall. Depending on how big the stencil is, you may need an extra hand here.
When the stencil is well-positioned, use your painter's tape or repositionable spray adhesive to attach the stencil to the wall. If your attached stencil looks something like this image or even close, then you are doing great!
Get your acrylic paints and pour some into the paint tray or palette. A little at a time is best so that the paint doesn't dry off midway.
Dip your foam paint roller or stencil brush into the paint and allow it to drip a little inside the tray to avoid leaving paint trails all over.
Start dabbing the paint onto your stencil using the foam paint roller or stencil brush. Remember that the paint roller is for large areas while the stencil brush is for small and even detailed areas.
Apply as many coats of paint as you need until you are satisfied with what you are seeing. Due to the fact that you are drawing an animal with some obvious features, you may want to pay extra attention to details on the painting so that you have a complete unicorn look at the end.
Once done, remove the stencil and check to see if there is a need for any necessary touchups. If you notice a smear or mess somewhere, a damp Q-tip or paper towel can be used to clean the excess paint off. You can also use a thin paintbrush and some extra paint to fill in any gaps you may find.
If you see any leaked paint underneath the stencil, wipe it off using a damp paper towel before using again.
Once you are finally done and satisfied with your stencilling, you can let the paint dry for a while before taking pictures of calling your family, friends and others to come and feast their eyes on it.
And VIOLA!!! Your unicorn is proudly sitting on your wall and wishing you all the good things life has to offer,

Conclusion
Unicorns represent a lot of things that will interest anyone and having a painting of it can go a long way for you. I can bet that you made a decision to pick one of the drawings and you are well on your way to creating a lovely design on your wall. Well, congratulations! I know you can do this and I will be proud to know that you were able to get it done yourself.
What do you think?